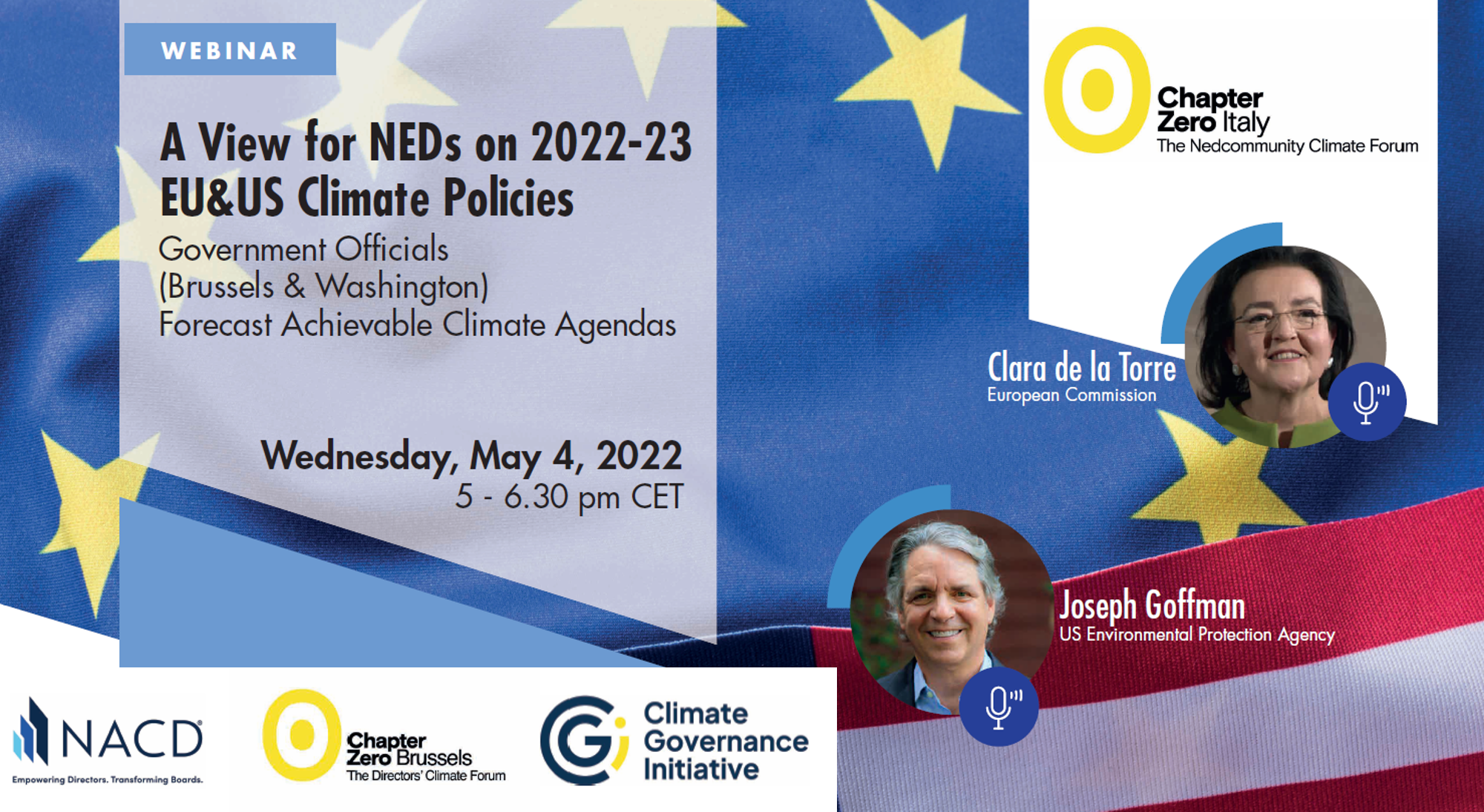 A View for NEDs on 2022-23 EU & US Climate Policies
438
438 visiteurs ont vu cet évènement.
This webinar is organized by Chapter Zero Brussels, a sister oranisation of Chapter Zero France member of the Climate Governance Initiative network.
Please join us for this international event featuring prominent government officials from Brussels and Washington who will address European and American strategies for achieving Climate goals.
Guest panelists will discuss the aspirations, challenges and "speedbumps" on the road to meeting global climate objectives.
This session will be of particular interest to NED's who want to better understand the policy frameworks that will inform their work in developing and deploying a Climate Governance approach at the Board of Director Level.
The webinar will be held in English language from 5pm-6.30pm CEST on Wednesday 4 May.
Welcome Note
Maria Pierdicchi, President, Nedcommunity 
Co-Host Comments
Silvia Stefini, Steering Committee Chair, Chapter Zero Italy
Cédric Brusselmans, Steering Committee Chair, Chapter Zero Brussels
Friso van der Oord, US Climate Initiative, hosted by National Assoc. of Corporate Directors
Panel Moderators
Jaap Winter, Partner at Phyleon leadership & governance; Advisory Board, Chapter Zero Brussels
Merribel Ayres, Founder, Lighthouse Consulting Group; Steering Committee, Chapter Zero Italy
Guest Panelists
Clara de la Torre, Deputy Director General of the Directorate General for Climate Action, European Commission
Joseph Goffman, Principal Deputy Assist. Administrator, Office of Air & Radiation, US Environmental Protection Agency (EPA),