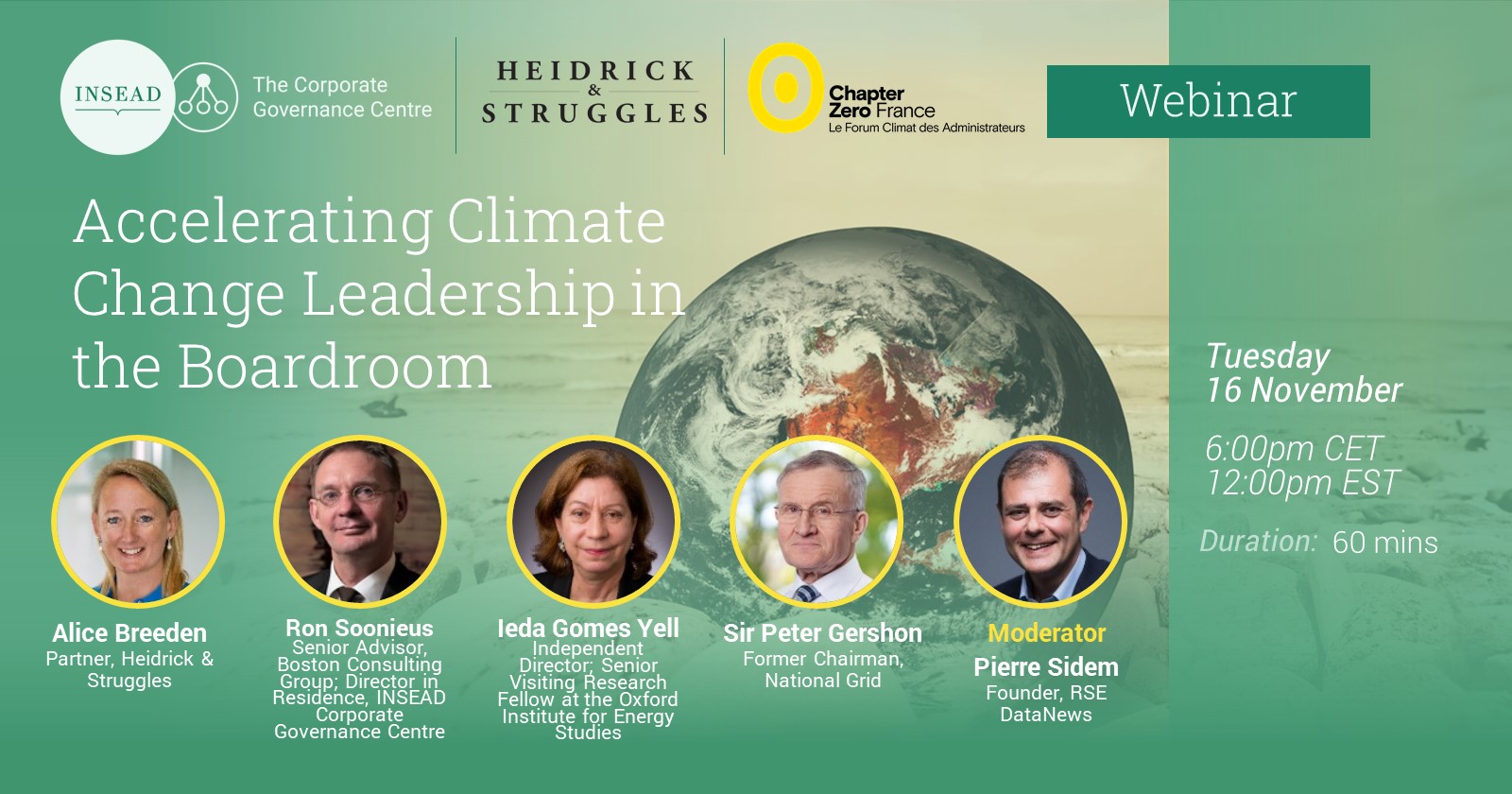 Accelerating Climate Change Leadership in the Boardroom
5699
5699 visiteurs ont vu cet évènement.
Are boards competent-ready to address the climate change issues ?
This survey proceeded by INSEAD Corporate Governance Centre, in collaboration with Heidrick & Struggles and Chapter Zero France reveals the readiness of boards of directors to address climate change.
Climate change is one of the most pressing issues facing companies across sectors globally today. There is an increasing pressure on boards of directors from stakeholders to report on and take a stand on their impact on global warming. Yet many board members still struggle to understand and assess the risks and opportunities of integrating a viable transition strategy to climate-resilient growth.
This webinar will reveal the preliminary results of the survey, which gathered more than 300 responses from board members globally. It will provide insights into how boards are managing the transition to carbon neutrality today, how they are integrating climate change into their oversight responsibility, and what skills and knowledge are required to lead the climate change agenda.
This webinar is organised in the context of the upcoming publication of the survey "Board Leadership in Climate Governance", led by INSEAD Corporate Governance Centre, Chapter Zero France and Heidrick & Struggles, on the climate-related competencies of board members around the globe.
Introduction speakers
Alice Breeden – Partner, Heidrick & Struggles
Ron Soonieus – Senior Advisor, Boston Consulting Group; Director in Residence, INSEAD Corporate Governance Center
Panel speakers
Ieda Gomes Yell – Independent Director; Senior Visiting Research Fellow, Oxford Institute for Energy Studies
Sir Peter Gershon – former Chairman, National Grid Group; trustee, The Sutton Trust and the Education Endowment Fund; board member, The Investor Forum.
Moderator